Laticrete
Mortar & Water Barrier Products by LATICRETE®
LATICRETE® MVIS™ (Masonry Veneer Installation System) is a system of products, when used in accordance with written instructions, provides a warranted solution for the installation of thin brick, manufactured stone, natural stone, and other thin veneer products. With over 50 years of setting industry standards with waterproofing and polymer fortified adhesive cement technology, LATICRETE offers an installation system that provides a permanent solution to adhering natural, manufactured stone and thin brick and other products to vertical and horizontal substrates.
Warranty Information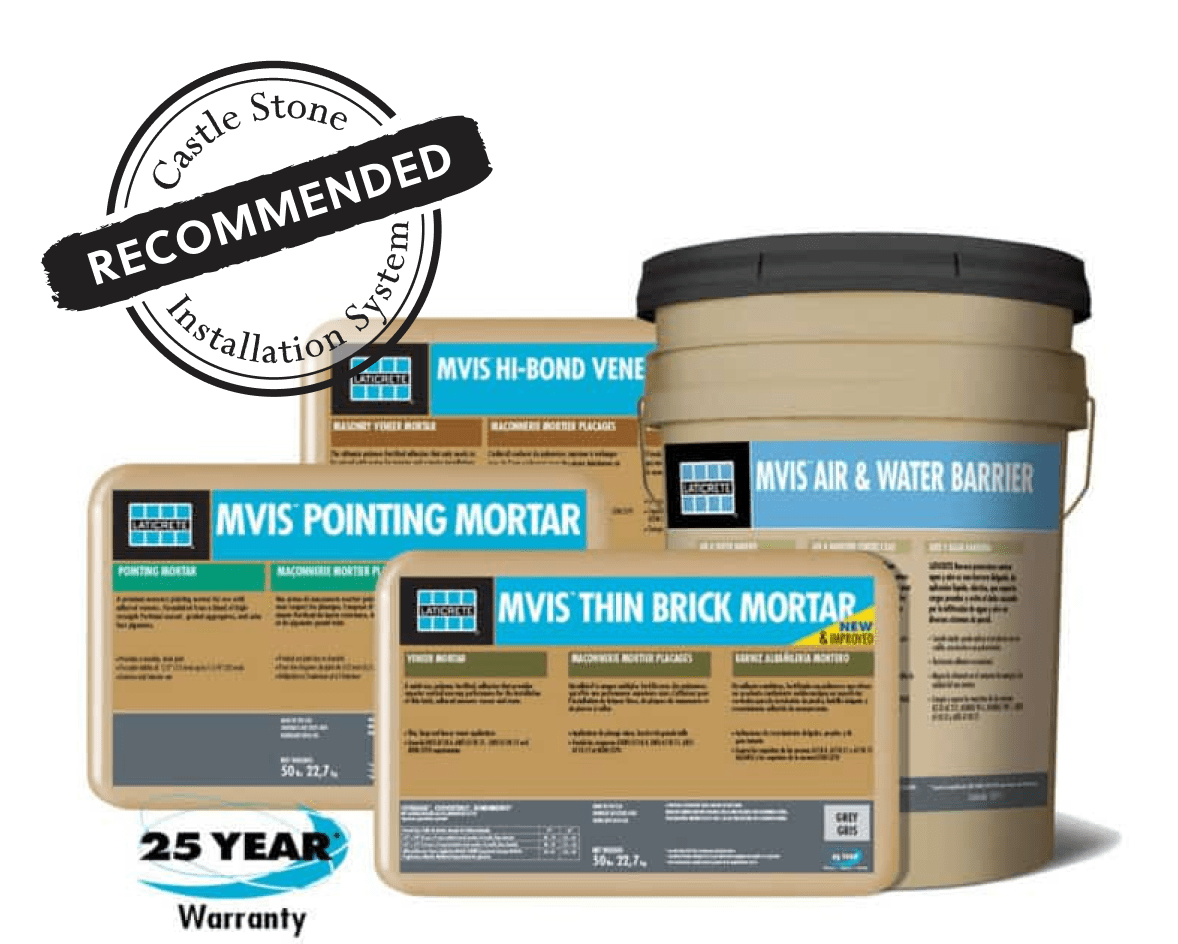 LATICRETE® has developed an installation system that provides a permanent, high strength installation that is freeze/thaw stable and protected from water intrusion. Backed by either the LATRICRETE® 25 Year System Warranty or 15 Year System Warranty, the LATICRETE® Masonry Veneer Installation System (MVIS) allows for increased productivity utilizing either masonry veneer techniques or the "tile setter's" method.
Architectural details are offered at www.laticrete.com/mvis to help design professionals, contractors, and installers understand the range of possible application – and appropriate products and techniques which will assure long-term performance on projects of all types.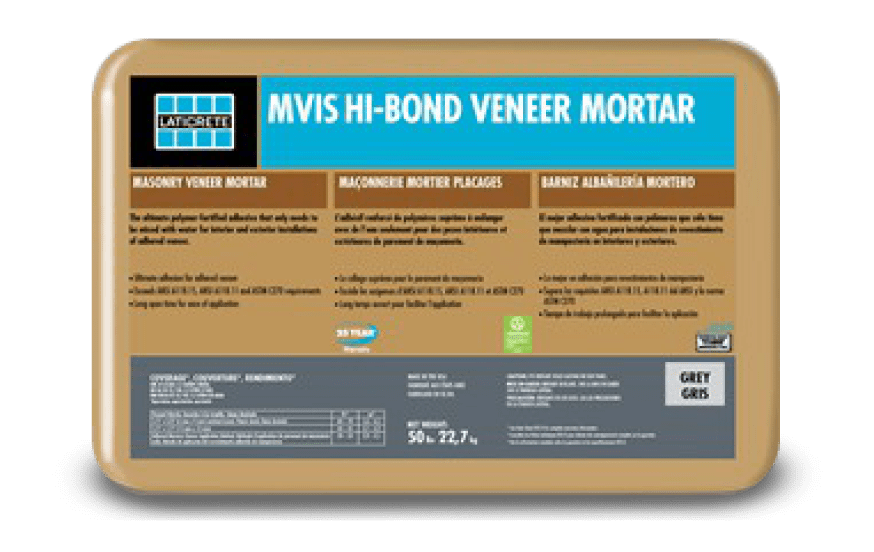 LATICRETE® HI-BOND MASONRY VENEER MORTAR
The ultimate, polymer fortified, adhesive mortar for interior and exterior installation of large format adhered masonry veneer stone. LATICRETE® Hi-Bond Masonry Veneer Mortar mixes easily with water and is formulated to achieve unsurpassed workability and adhesion. MVIS™ Veneer Mortar is a patented, versatile polymer fortified mortar designed specifically for the installation of adhered masonry stone veneer.
Ultimate adhesion for masonry veneer
Incredible bond to exterior glue plywood* and concrete
Excellent shear bond strength
High performing, smooth and creamy formula
Exceeds ANSI A118.4 & ANSI A118.11 Shear Bond Strength Requirements
Exceeds ASTM C270 compressive strength requirements for masonry veneer installations
Packaging: 50 lb. bag; 56 bags per pallet; Grey color
Mixing: 5.5 quarts of water per bag (approximately)
Coverage: 30-33 sq. ft. per bag (approximately)
Hi-Bond Veneer mortar is a zero VOC (Volatile Organic Compound) mortar, meaning once cured there is no off gassing.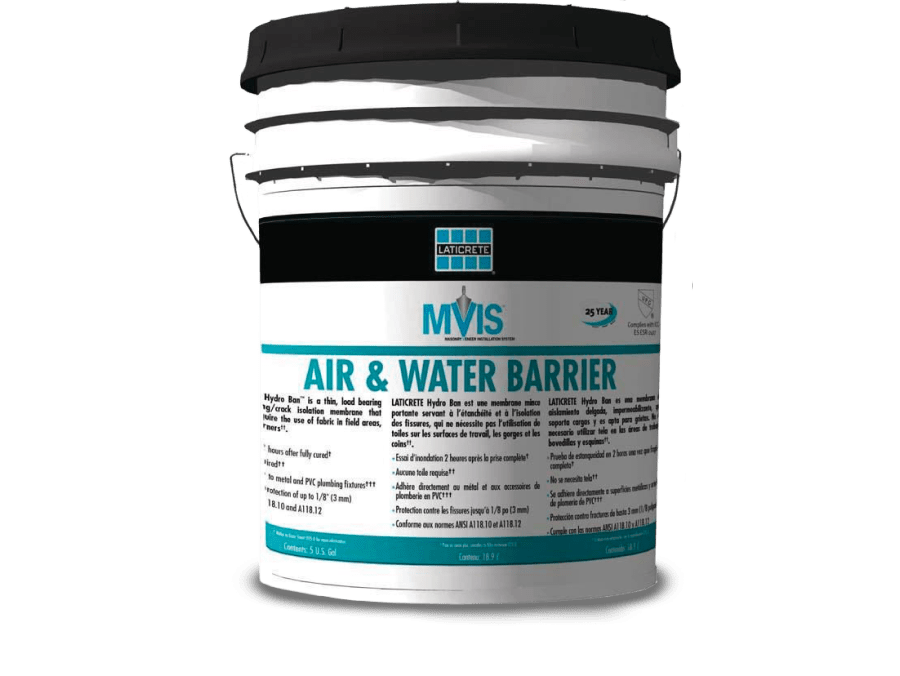 LATICRETE® AIR & WATER BARRIER
A single component, load bearing, vapor permeable, fluid applied, waterproofing, crack isolation, air barrier membrane. LATICRETE Air & Water Barrier produces a seamless, monolithic elastomeric coating and bonds directly to a wide variety of substrates. A vital component of LATICRETE Air & Water barrier comprehensive building protection system.
Install Adhered Masonry Veneers (AMV) in 1-2 hours
Designed for use as an air and water barrier behind most exterior wall cladding
Excellent bond strength
May contribute to overall building energy efficiency
Easy to clean up with water
Exceeds ICC-ES AC 212
Packaging: 5-gallon pail liquid, 36 units per pallet 1 gallon pail liquid, 4 units per carton
Coverage: 250 sq. ft. per pail (approximately)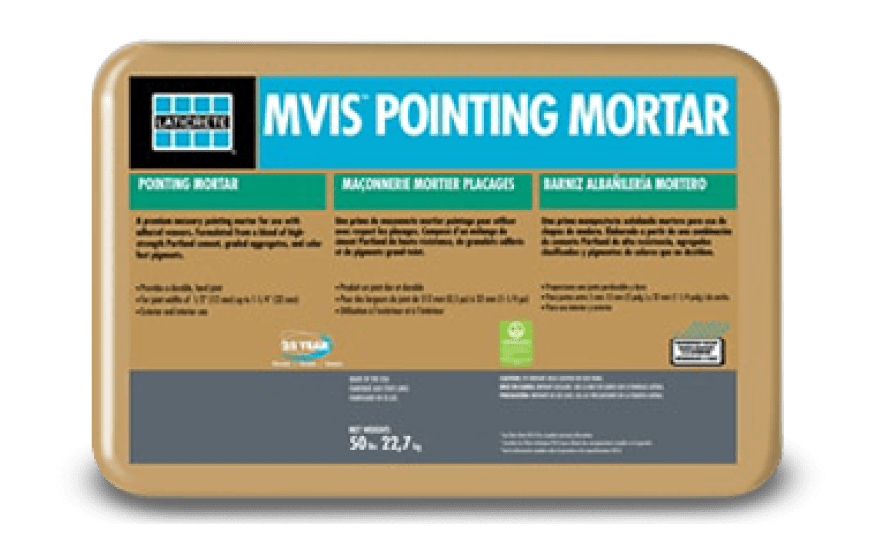 LATICRETE® MASONRY POINTING MORTAR
A premium, factory-prepared, MVIS™ Pointing Mortar designed to be mixed with water or 1776 Grout Enhancer. Formulated from a blend of high strength portland cement, graded aggregates, and color-fast pigments. Provides a joint that is dense, hard, and durable.
Designed for exterior and interior use – ideal for both heavy-duty use and for long-lasting beauty.
Colors are specially blended to be uniform in color.
Part of a complete LATICRETE system that includes materials for every aspect of a stone thin brick, manufactured stone, or tile installation to ensure quality and long-lasting performance.
Packaging: 50 lb (22.7 kg) bag; 56 bags per pallet
Coverage: 175-185 linear ft. with 3/4 inch wide by 1/2 inch deep joint (approximately)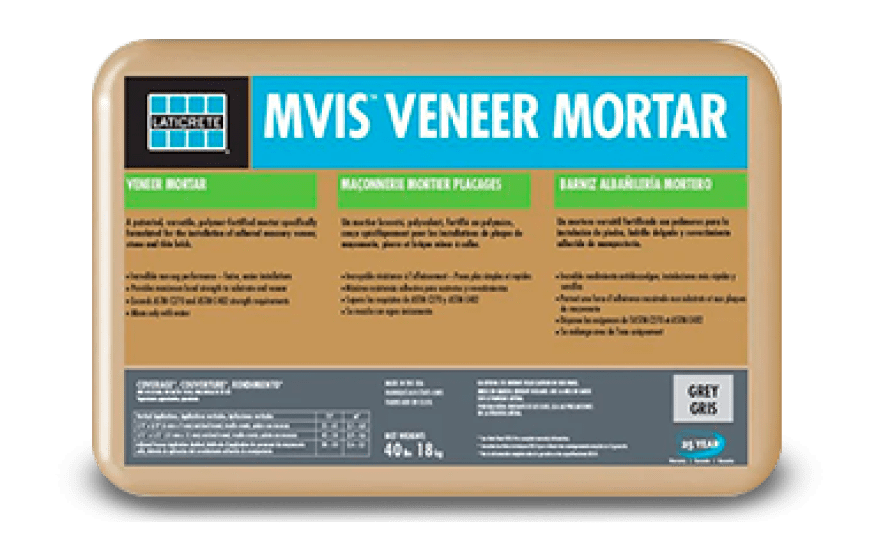 LATICRETE® VENEER MORTAR
A patented, versatile polymer fortified adhesive mortar designed specifically to install adhered masonry veneer, stone and thin brick. MVIS™ Veneer Mortar is a high-performance mix that provides maximum non-sag performance for vertical installations and obtains maximum bond strength to the substrate and selected veneers. MVIS Veneer Mortar offers exceptional workability.
Incredible non-sag performance – faster, easier installations
Revolutionary patented formula provides maximum bond strength to veneers and substrate
Exceeds ASTM C270 compressive strength requirements for masonry veneer installations
Passes IBC and IRC shear bond strength code requirements for adhered masonry veneer when tested in accordance with ASTM C482
Mixes only with water – no admix needed
Fiber-reinforced
Packaging: 40 lb. bag; 56 bags per pallet; Grey color
Coverage: 28 – 30 sq. ft. per bag (approximately)