Residential & Commercial
Bring Your Vision to Life
Whether you are a homeowner or business owner, we can help with your residential and commercial architectural stone needs—interior and exterior. A new home build, outdoor kitchen, interior fireplace, senior living facility, multi-residence, restaurant, you name it—we will help you find the perfect stone to match your vision.
At Castle Stone, we have a proven process that's important to understand when evaluating your timeline and essential to ensuring your complete satisfaction.
Our Process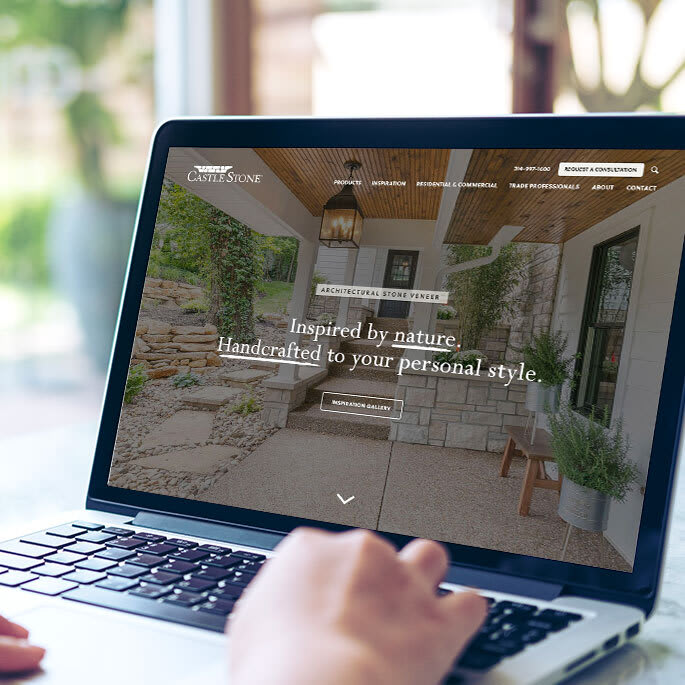 1
Schedule an Appointment
Whether you call or schedule an appointment online, we will arrange a professional consultation with our staff to discuss your needs.
Schedule an Appointment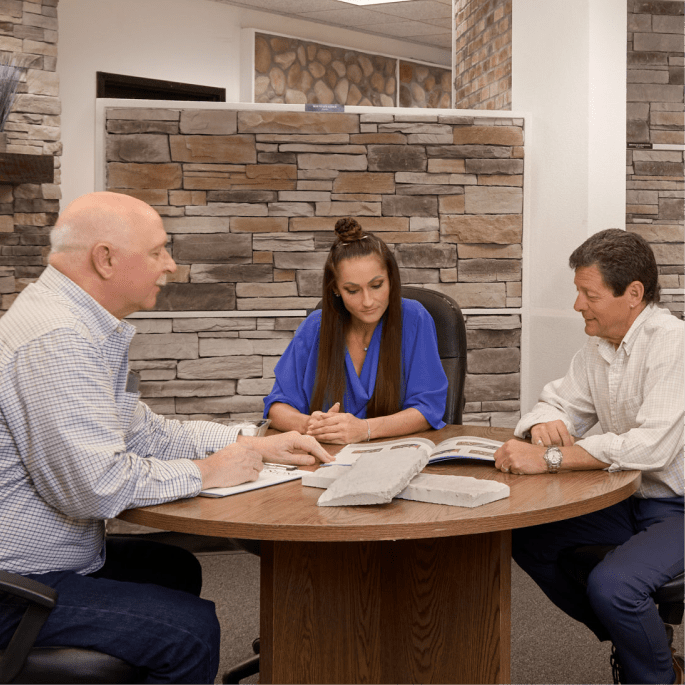 2
Select Stone Style & Color
During your consultation, we invite you to browse our showroom featuring a comprehensive selection of our stone veneer. We'll work with you to find the best stone style & color for you or your client and assemble a free sample board.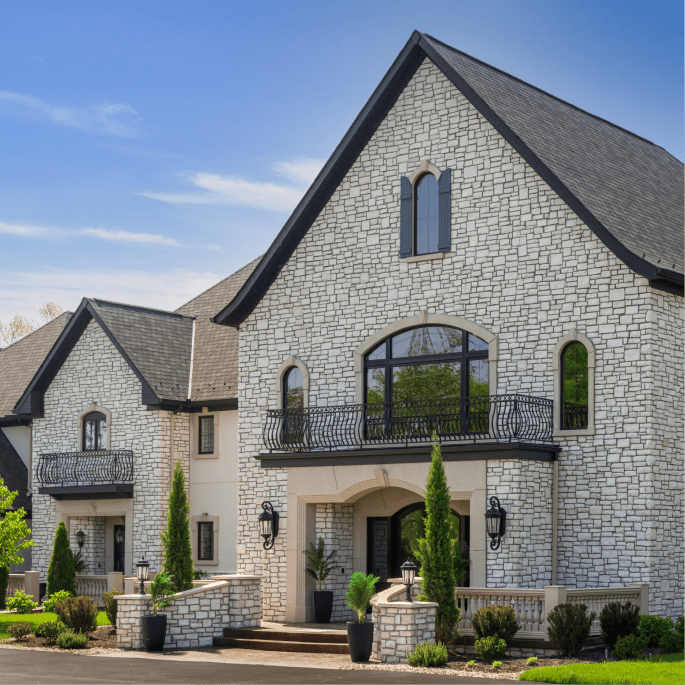 3
Produced to Order
We produce everything to order. Once we confirm your specific quantity, we will place your order within our production queue and advise of your material lead time.
Looking for the right professional to help with your project?
Regardless of your project type and goals, we are happy to equip you with the resources necessary to bring your vision to life. While we can work directly with home and business owners, we are well-equipped to provide recommendations and connect you with the right professional for your project. We can provide recommendations for the following professions:
Architects
Interior Designers
General Contractors
Home Builders
Stone Masons
Fill out our professionals inquiry form and we will recommend a professional in the Midwest region to fit your needs.
"*" indicates required fields
FAQs & Resources
What are the benefits of using architectural stone veneer over natural stone?
Architectural stone gives you the same look, texture, color and shape as natural stone. Our stones are made in molds from the actual stone themselves, thus capturing all the detail and definition of the natural stone.
Architectural stone veneer is approximately 1/3 to 1/2 the cost of natural stone; gives you all the benefits of real stone, but at a fraction of the price.
A project using architectural stone vs. natural stone will be approximately 30-50% less expensive to complete. Because of the lightweight properties associated with stone veneers, no wall ties or footings are required to be constructed.
Stone colors can be specified to meet your needs; whereas quarried stones, in addition to having to mine mother earth for the material, may have different color variations from what you see at a showroom.
Will Castle Stone products fade?
The base color is blended throughout and permanent iron oxide pigments are applient and absorbed when the veneer is cast. Color becomes an integral part of the stone, and similar to natural stone, there are minimal color changes after years of weathering.
Where can Castle Stone veneers be used?
Our stone veneer products and accessories can be used for interior or exterior uses.
Can I apply Castle Stone over the brick on my home exterior or fireplace?
Brick (non-painted) makes a great surface to apply stone veneer. A thin coat of mortar is applied to the brick and the stone is then applied directly over the brick. (Note: if the brick is painted, then the paint will need to be removed or a different substrate created before installing stone veneer.)
Where can I find a skilled mason to install my architectural stone?
Castle Stone has a selectively defined list of masons we can recommend for your project. Call us at 314-997-1600 or fill out our professional inquiry form and we can put you in touch with the right craftsman for your project.
How do I clean my stone veneer?
Product Literature
Stone Inspiration
Looking for Installation & Technical Details
Inspiration Gallery
"I was really impressed with the quality of your stone. It was easy to work with and looked great."
Trevor M.
"Dave finished the job yesterday, and we absolutely love it!  It's the perfect match with the brick.  I HAVE mentioned your business to several and we're so pleased with it. THANKS SO MUCH!"
Laurie G.
"The team at Castle Stone exceeded all my expectations. From the time of the consult to completion of the project everything went as smooth as the mortar in between the stone. I would recommend them for any job small or large."
Dale S.
"Not only was I treated with professionalism throughout the entire process, I was astonished at the quality of this product! Excellently guided with choices of color and stone type resulting in my home showcasing beyond expectations! Grateful for the equity it brought to not only our home but to the surrounding homes as well."
Rhonda A.
"Rick did an excellent job helping us out. Castle Stone provided us with excellent stone for the siding of our house. Would highly recommend them to all our family and friends."
Tim S.
"You probably will not remember me—my wife and I came to your business/showroom a couple of weeks ago to discuss finishing our fireplace. You gave great advice and the finish turned out better than we had hoped. Appreciate your good advice/quick help in providing the necessary stone."
Daniel B.
"Just wanted you to know they put stone on our new house and I just want to say that it looks AWESOME! I think you have a truly exceptional product and I just want to say thanks!"
Jim 'The Cat' Hayes
"Castle Stone is my trusted, reliable source for cultured stone masonry products and service. They have a comfortable showroom full of beautiful stone veneers for my clients and I to select from. The unique thing I appreciate most about Castle Stone is the ability to design and specify custom blends to give a project that perfect look. Excellent products, great service. Thank you Castle Stone!"
Joe Wiedemeier, President Wiedemeier Architects, Inc.
"We were left hanging twice by guys that told us they would finish our mailbox. For months, it never happened (stone was out of stock). But now it is finally is finished thanks to you! Thank you for being a stand up, genuine business owner, that cared enough to update us on the stone pick-up date and for helping us find a couple of great guys that finished it. It looks great!"
Andi L.